Candidate experience: more than a fancy term?
How a candidate experiences the application process and the impression they get from it can influence their decision to apply further or accept your job offer. Candidate experience and the candidate journey are two peas in a pod. It's relevant from the first touchpoint between the candidate and your organisation, like when they come across a Facebook ad during a scrolling session, to the very last touchpoint, whether it's a rejection or an acceptance.
Needless to say, it is a bare necessity to try and control the candidate experience as closely as possible. A bad experience can cause candidates to lose respect for your company and drop out of the application process. Word spreads fast: candidates can share their bad experiences through word-of-mouth or negative reviews on Google or Glassdoor. 🗣️ This can create a bad reputation in no time, discouraging other potential candidates from considering your organisation.
We've made a handy overview of what you can do to optimise your candidate experience. 👇
Make it easy for candidates to apply!
A crucial moment in the candidate experience is the submitting of the application. It should be simple and painless from start to submit. Make it easy for candidates to find your vacancy page, and give clear instructions about the application process. Keep an eye on the time you're asking candidates to invest in the process, and respect it. 🕑 Avoid unnecessarily long applications, stick to what's important, and don't ask for more than you need to know. Keep the mobile experience in mind as well: make sure that the application process is fully mobile-friendly by:
keeping it short;

providing an appropriate file size for uploading;

only mark necessary information as required fields to fill out.
Communicate faster than the speed of light
It's important to follow up and communicate as quickly as possible through the entire process to create a good candidate experience. Send an invitation for an interview or a rejection email as soon as possible. You can choose to apply the two-day rule: reply within 2 days of the candidate's application. Answer any thank-you and follow up emails from candidates moving forward in the application process in the same timeframe to keep their full attention. 
Provide the candidates with the necessary information
Always give your candidates sufficient information. Create a crystal clear job description, and list the must-haves for the job as requirements. Read more about our top tips for creating a vacancy here! 
Let the candidate know what they can expect from both the organisation and the job in question. Inform them about the different stages of the process: what will it look like, who will be involved, how long will the interview take, and so on. Clearly state what you expect of them during certain tests, so they know what's coming! Also, it can be useful to give them extra information such as who they should approach, public transport options, or where they can best park their car. 🚗
Communicate about the candidate's position throughout the process
The application process has several stages:
receiving the application;

processing it;

feedback after the interview;

the transition to the next stage;

the acceptance or the rejection.
We already mentioned it in the title: communication is key. Avoid the risk of candidates dropping out because they don't know where they stand. Always communicate where in the process they are and what the next steps are going to be. Let the candidate know that you have received their cv and when they can expect to receive further information. If the process moves slower than usual because a colleague is out of office, you are collecting hard-to-find files, or for any other reason, the candidate will still be waiting for your reply. Inform your candidates about any circumstances or possible delays.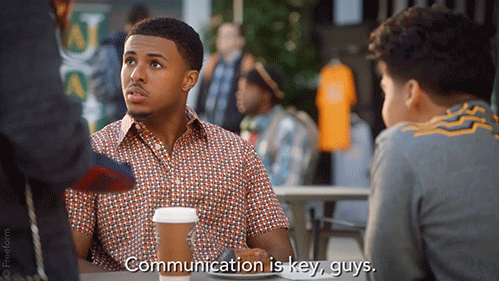 Define a clear timeline for your application process, and keep in touch with your candidates along the way. Always stay in touch, even if the candidate isn't a match with the profile you're looking for. When rejecting a candidate, you should stay transparent and clearly communicate the reasons for your decision. Give them specific feedback for them to use in the future. They will be grateful! 
Don't lose sight of the human touch
Organisations often work with an applicant tracking system (ATS) to optimise the recruitment process. But what about the candidate experience? The use of an ATS system will undoubtedly make the process more pleasant for the employer. However, you know exactly what's going on as a recruiter, but the candidate doesn't. Don't get too comfortable with automation and risk losing sight of your candidates. 👀 Sending impersonal bulk emails is an absolute no go! Approach your candidates as human beings (because that's what they are), address them by their name and stay consistent with the human touch throughout the application process.